International Admissions
#YouAreWelcomeHere
Western New England University is your gateway to an outstanding private university experience in the U.S.A. International students from nearly 30 countries appreciate our warm and welcoming campus where small classes allow you to receive personal attention from your professors, many of whom also come from abroad.
Read an overview of the University in your native language!
Japanese | Korean
Watch a video about the University.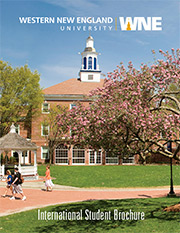 A More Personal U.S. Experience
A Great East Coast Location

Come enjoy New England's four seasons. Our beautiful campus is located in a small city of 153,000 in the western part of Massachusetts. It is just 241 kilometers (150 miles) north of New York City, 138 kilometers (86 miles) west of Boston, and 39 kilometers (24 miles) from Bradley International Airport in Hartford, Connecticut. It's a great place to explore American culture through music, art, theater, fairs, festivals, the Basketball Hall of Fame, Six Flags New England Amusement Park, and plenty of great shopping!

Outstanding Academic Offerings

Western New England University offers nearly 50 undergraduate majors and 20 graduate and professional programs through the Colleges of Arts and Sciences, Business, Engineering, Pharmacy and our School of Law. The University holds many prestigious accreditations.

Academics

The Office of International Student & Scholar Services

Our faculty, staff, and fellow students are here to welcome and support you through a variety of programs and activities that will help you become a part of our learning community. They will get to know you by name and help guide you in locating housing, learning your way around campus, and understanding the American culture. The Office of International Student & Scholar Services is an important place to get started.

International Students & Scholars
The WNE Difference
Open Doors Through More than 1,000 Internship Sites
Build a résumé that opens doors through impressive internships. From LEGO Systems to PricewaterhouseCoopers, Western New England University offers a network of more than 1,000 internship sites.