Library News
Come to the Source
From upcoming events to new resources, get the latest Library news and information.
Exam Period Coffee Service
Exam Period Coffee Service
In the 2nd Floor Law Library Lounge
Stop by starting Thursday, April 27, through May 9, for coffee and tea.
The service will be available each day in the Law Library Lounge area starting at 3pm.
Good luck on your exams!
Summer Access to Lexis Advance and Westlaw Explained Here!
Don't forget to sign up for continued access.
First the good news: you have unlimited summer access to Lexis Advance for all purposes, including any summer job you may have at a private law firm. Just sign in as usual and start researching. If you are a graduating 3L, you automatically have access to Lexis Advance for six months following graduation with your present student ID. Additionally, if you are a graduating 3L going into public interest law Lexis Advance will provide you continued access for 12 months through its ASPIRE program. To be eligible for ASPIRE, a graduate must be engaged in verifiable 501(c)(3) public interest work, and must document that employment. The documentation can be a letter confirming your start date on the organization's letterhead. If you qualify, you will receive an ID and password for ASPIRE access to Lexis Advance services within a few weeks of graduation.
Westlaw permits the continued use of your student account during the summer for summer classes, work as a research assistant, on a moot court team, in a clinic, non-profit work, or an externship sponsored by the Law School. No commercial use is permitted. 
Graduating 3Ls and LLMs - there is good news for you. The Law Library has negotiated access to Westlaw and Practical Law for 18 months following graduation. In order to get this extended access, click into a pop-up that appears when you log into www.lawschool.westlaw.com and when you agree to enter the program, you're set! If you believe you have not yet seen the pop up, you may click into this link to get the process started:
https://lawschool.westlaw.com/authentication/gradelite.  
Any questions? Contact Renee at rrastorfer@law.wne.edu.

Learn the basics about using Microsoft Excel
Do you want to know more about Microsoft Excel? If so you may want to sign up for this two session course on the basic interface and some features of Excel including: how to navigate quickly within worksheets, how to use formulas and functions, how to understand data types, and how to use the table function.
This course will be held in room L329 in April 6th and 13th at 9:00am. 
Participants who successfully complete the course will receive a personalized certificate of completion and something exciting to put on their resume!
Space is limited to twenty people so sign up quickly!
Questions? Contact Artie Berns, phone: 413-782-1454, email: artie.berns@law.wne.edu
Please follow this link to register:  http://tinyurl.com/kl3dldk
Law Library's Annual Bridge to Practice Training Session
Come One, Come All!
The Law Library is holding its annual Bridge to Practice session on Saturday April 8th from 10:00 a.m. to 1:00 p.m. starting in Conference Room 330. If you're looking to fortify your research skills before heading out into real-world practice, this is the event for you.
We will be introducing a hypothetical — typically we find a fact pattern ripped from today's legal news and issues — and then exploring how to research it efficiently online and in print using popular secondary sources like the Massachusetts Practice Series and Massachusetts Continuing Legal Education (MCLE) materials, annotated statutes and citators (Shepard's and KeyCite). The law librarians are always happy to field any questions you have along the way.
Bonus: Bagels!
We request that you register by Thursday, April 6th by visiting this link. If you don't get a chance to register, don't worry—you're still welcome.
Please direct any questions to Renee Rastorfer at rrastorfer@law.wne.edu or call 782-1458.
Hope to see you there!
Upcoming Spring dates
Elska and Sandra, the Library's therapy dog and her owner, will be visiting us from 4-5:30 on the below dates. Please plan to stop by and get some stress relief!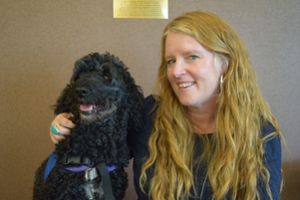 Tuesday, February 14
  Monday, March 27
  Monday, April 10
  Tuesday, May 2
New Microsoft Word: How to Guide
Learn advanced functions of Microsoft Word
There is a new LibGuide entitled Microsoft Word: How to Guide, which is available to users 24/7 anywhere an internet connection exists. The guide includes video tutorials, handouts, and sample documents with which to follow along while watching the videos.  The most foreseeable use of these tutorials is to help students format competition briefs and to help format documents created in internships or clinics. For a complete listing of tutorials available please view the guide by following this link.