Graduate Housing
Western New England University is pleased to offer campus housing for graduate students in the Gateway Village apartment complex. The capacity of an apartment varies from one to three residents. In living space with more than one occupant, each resident has a private bedroom.
Occupancy may be for the academic year (August 19, 2017 - May 27, 2018)  or the academic year plus summer (August 19, 2017 - July 29, 2018). Assignment to University housing typically begins in mid-August and is a binding commitment for the established time frame. There are no prorated charges or refunds once the period of occupancy begins. The cost of utilities (heat, hot water, and electricity) and wireless internet service is included with the applicable residency fee. Since MBA and MSA classes begin prior to August; residency is available in the undergraduate summer housing (only for new students who do not already reside in graduate housing), at a weekly rate of $95.00, until relocation into graduate housing can occur in August.
The residency charge (a per semester billing format) is applied to the student's account with the University. All payments are made directly to Student Administrative Services.
If you are applying for housing for the 2017-2018 academic year, please be aware that two bedroom, one bedroom and efficiency apartments are no longer available at this point.  Three bedroom apartment spaces are the only option still available, and you can still put your name on a waiting list for a two bedroom, one bedroom or efficiency apartment if you would like to.
Click here to see how different apartments styles in Gateway Village are layed out.
For questions or further information, contact the Office of Residence Life at 413-782-1317 or via email at Kymberley.Hendricks@wne.edu
Housing Applications and Rates
Apply for Housing
The Western New England University Graduate Student Housing Agreement provides detailed information on the provisions and expectations for residents. Please read it carefully prior to submitting an application.
Graduate Housing Rates
Efficiency Apartment - $9,414/academic year - $11,297/academic year plus summer
One Bedroom Apartment - $10,356/academic year - $12,427/academic year plus summer
Two Bedroom Apartment - $8,000/academic year - $9,600/academic year plus summer
Three Bedroom Apartment - $10,014/academic year - $12,017/academic year plus summer
House - $10,360/academic year - $12,432/academic year plus summer
To apply for housing, please complete the appropriate housing application for your needs.
Graduate Gender Neutral Housing Agreement
For questions or further information, contact the Office of Residence Life 413-782-1317 or via email at Kymberley.Hendricks@wne.edu
Gateway Village Apartments
Gateway Village
Situated directly across from the main campus on Wilbraham Road, Gateway Village is a complex of 170 single story apartments owned and operated by Western New England University. For the 2017-2018 academic year, up to 62 apartments are designated as accommodations for graduate students. These apartments are clusters of contiguous units in a section of the complex. The balance of Gateway Village accommodates undergraduate students. 
Each apartment is furnished by the University and has a kitchen with a range, sink, refrigerator, and storage cabinets. Furnishings vary according to the size of the accommodations and number of occupants and typically include the following items: upholstered chair(s) and/or couch, a coffee table and end table(s), lamps, twin bed, night stand, bureau, bookcase, desk and desk chair, kitchen table and chairs. Residents must bring their own dishware, cooking utensils, cleaning supplies, etc. Each apartment is wired for cable television access as well as wireless internet access. Gateway Village also includes a laundry facility with washers and driers without charge for use.
Each apartment is filled to the designated capacity. If two or more individuals wish to reside in the same apartment, each person must submit his/her own application, providing the name(s) of the preferred roommate(s). 
The size (square footage) of the living space, including the bedrooms, varies within each style/type of apartment. Graduate apartments are air conditioned because of the extended nature of some graduate programs and the option to extend housing into the summer. In two bedroom apartments, assignment to a particular bedroom is 'first come, first served' upon arrival (i.e., at the time of key distribution.) In three bedroom apartments, bedrooms are assigned in advance.
To respect the privacy of current residents, we cannot provide the opportunity to view the interior of the apartments until June. Access will be coordinated through Law School Admissions, College of Pharmacy Admissions and/or the office of Residence Life.
A number of current residents may choose to continue occupancy in 2016-2017 and are given advance opportunity to do so. This will determine how many spaces are available for new residents in any given apartment as well as the gender for assignment.  
Graduate apartments on Gateway Drive, as well as Breck Place 13R and 13L and Breckwood Circle 155-167 are carpeted. The rest of the graduate area has tile flooring.
Gateway Village is within walking distance of all campus facilities, including the School of Law and College of Pharmacy, as well as a shopping plaza with stores that may serve a variety of needs. Additional shopping and services are readily available within approximately one mile of the campus. 
The following image links are for Graduate Housing only:
View a Gateway Village Efficiency       View a Gateway Village Bedroom       View a Gateway Village Kitchen
                             View a Gateway Living Room        View Gateway Village Bathroom      
Checking Into Graduate Housing
Move-in for graduate housing for the 2017-2018 academic year will take place in August.  More information about specific dates and times will be posted here in the next few weeks.
If you have questions regarding your specific situation, please contact Kymberley Hendricks, Assistant Director of Residence Life for Programming and Graduate Housing at: Kymberley.Hendricks@wne.edu or 413-796-2169.
Gateway Village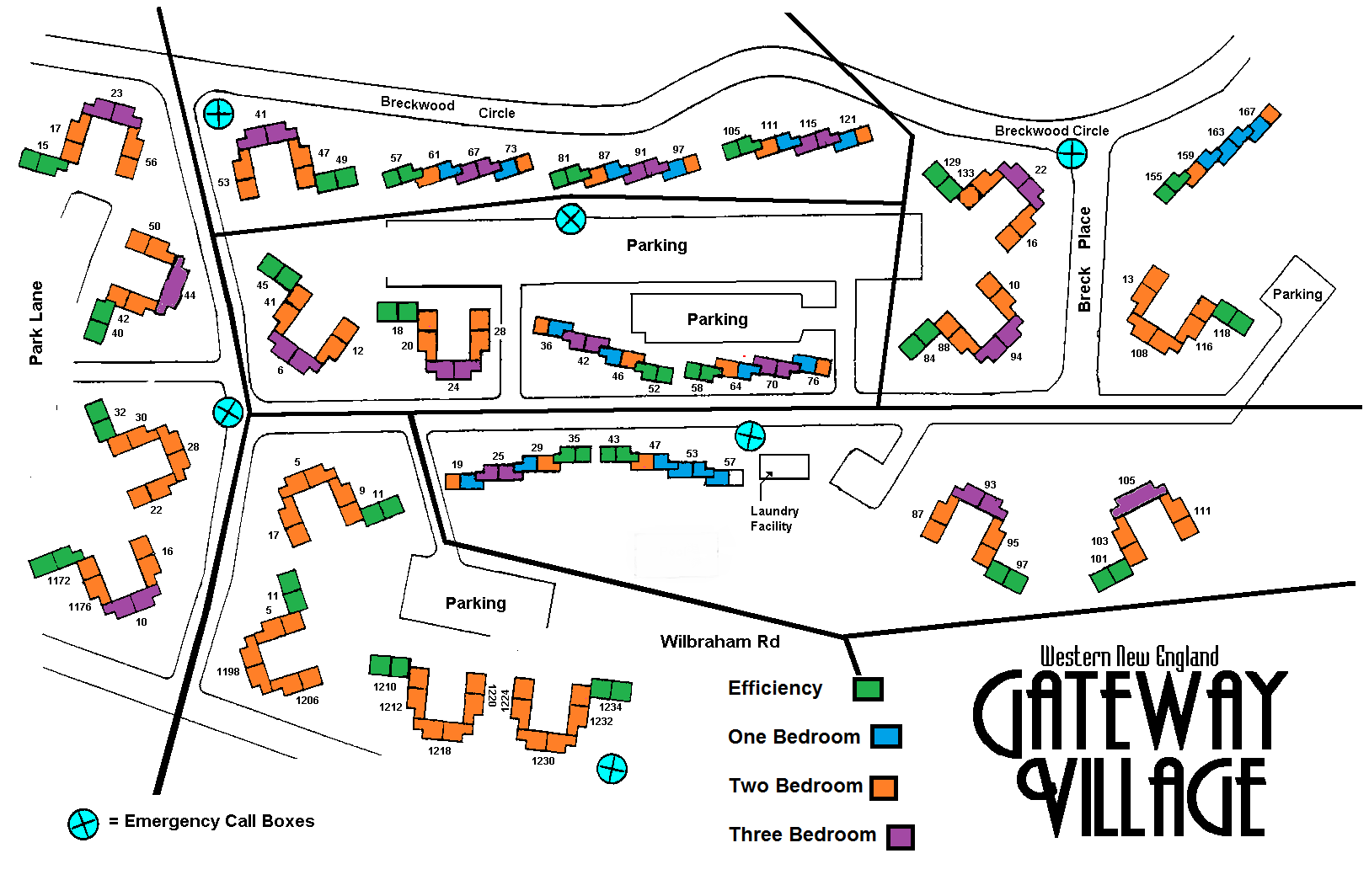 Living in Gateway
Maintenance is provided by the department of Facilities Management through an online work order system. However, daily upkeep of the living space is the full responsibility of the student(s) residing there. Each resident will be assigned a campus box number as their mailing address. Mail boxes are located in the St. Germain Campus Center. On campus dining is available through a variety of voluntary meal plan options or 'pay-as-you-go' as well as a debit card arrangement on the student ID card. More information about meal plans can be found here. 
Public Safety officers routinely patrol the campus by cruiser, on foot, and by bicycle and there is a system of closed circuit televisions and emergency phones throughout the campus.  Vehicular traffic to and from the complex is monitored by a security gate that is activated by a student's ID card. More information about campus parking can be found here.
Can My Spouse/Partner Live With Me?
An efficiency or one bedroom apartment may accommodate a married couple or domestic partners if space is available. Space in one bedroom and efficiency apartments is always very limited for new incoming students, so any new student interested in having their spouse or partner live with them should contact the Office of Residence Life as soon as possible to inquire about availability.
Apartments with multiple bedrooms are intended for students of the same gender unless students request to live in Gender Neutral Housing. For more information on Gender Neutral Housing for graduate students, please contact the Office of Residence Life at kymberley.hendricks@wne.edu.
University housing is unable to accommodate children or other family members.