Faculty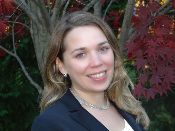 Stacie L Bancroft
Adjunct-Fall
Education:
Ph.D., Western New England University
M.S., Northeastern University
B.A. , Hamilton College
I am not currently accepting new students.
I am a Board Certified Behavior Analyst-D and have worked in the field of autism and developmental disabilities for over two decades. I am currently a Program Director at the New England Center for Children in Southborough, Massachusetts and serve on the Board of Directors for the Berkshire Association for Behavior Analysis and Therapy.
Thank you for taking the time to read about my research interests and professional practice. If you have any questions or would like to learn more about my experience or my lab, please feel free to contact me through the email address listed above.
My primary interests are in the area of enhancing leisure repertories in individuals with developmental disabilities. My ongoing work in this area focuses on behavioral variability and methods for increasing variability, as well as examining preference for acquired leisure activities and subsequently testing methods for increasing the reinforcing value of these activities.I have researched and continue to be interested in task analysis and teaching complex behavior through chaining procedures. I am also interested in the assessment and treatment of problem behavior, and identification and treatment of sleep problems.