Club and Honor Society
The Innovation and Entrepreneurship Club is to help students learn more about business and opportunities for their futures. This club's mission is to foster a learning and curious environment to help the growth of its member's knowledge of being innovative.
Activities
The Club operates out of the Center for Innovation and Entrepreneurship with meetings allowing members to: 
learn valuable skills like public speaking and elevator pitch
bring in local business to help understand an industry better
being integrated in an entrepreneurial mindset community through visiting competitions and mentorship communities
Leadership
The club is run by four student leaders with a President, Vice President, Secretary, and Treasurer. If you want to reach out, contact us at cie@wne.edu.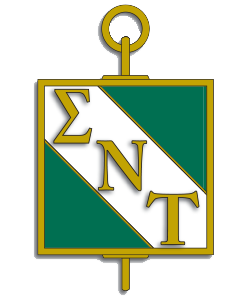 Sigma Nu Tau is a collegiate honors society recognizing students, faculty, members, and entrepreneurs who have either excelled in the study of entrepreneurship or who are exemplary models of principled entrepreneurship.
Membership
Sigma Nu Tau is the national honor society for entrepreneurship majors and minors from qualifying colleges/universities with ACCSB accreditation. Its mission is to promote, recognize, and reward academic excellence in entrepreneurship and to encourage and recognize the practice of principled entrepreneurship.
To qualify for induction, all student members must possess honor, integrity, and a strong entrepreneurial spirit. Undergraduates must have earned at least a 3.2 cumulative GPA and have a junior class standing or higher. Graduate Students must have earned at least a 3.5 cumulative GPA and completed at least 50% of graduate coursework.
The Honorary Members are: 
Mr. Stan Kowalski

Mr. Dana Barrows

Ms. Karen Utgoff
Video Pitch Competition
The Sigma Nu Tau Entrepreneurship Honor Society Video Pitch Competition Program is a national program to recognize and reward the value and impact of entrepreneurship education on student success in academic business plan competitions!
Every chapter may submit one 2-3 minute video which highlights the learning process that takes place when students participate in a business plan competition. Each entry should cover the basics of the team's winning business plan PLUS "How participating in a business plan competition benefited your entrepreneurial learning process?"
Scholarship
Sigma Nu Tau offers a $1,250 scholarship program for members to foster and recognize academic excellence in entrepreneurship. Students can be selected for the scholarship through the demonstration of excellence and initiative involving principled entrepreneurship; involvement and promotion of the entrepreneurial ecosystem; internships and more.