Lex Brevis
THE SCHOOL OF LAW'S STUDENT NEWSPAPER
Lex Brevis is the student newspaper of Western New England University School of Law. It is published three or four times a semester. Produced by students, the newspaper is an institution at the School of Law
In 2003, Lex Brevis was recognized by the American Bar Association's Law School Division at their Summer Meeting with three honorable mention awards in the categories Best Newspaper, Best Feature Article, and Best Editorial.
The mission of Lex Brevis is to serve the Western New England University School of Law student body and law school community as a student-run media outlet and an informative periodical. Containing articles of a more academic nature as well as those for entertainment, Lex Brevis aims to publish a variety of pieces in each issue and provide a place for members of the Western New England University School of Law community to have their voices heard.
Lex Brevis enthusiastically welcomes submissions from law students, faculty and staff, alumni, and other members of the legal community.
Staff
Editor-In-Chief: Tinuke Fadairo
Copy Editor: Cheyanne Clark
Content Editor: Julie Page
Marketing/Outreach Editor: Veronice Santana
Design/Layout Editor: Eric Harrell
Photographer:  Tara Morrison, Madison O'Brien

Staff Writers/Monthly Contributors:
Alexander Cerbo
Anne Blanchard
Gissell Rodriguez
John Magistro IV
Joevonne Brace-Tillery
Madison O'Brien
Tara Morrison
Faculty Advisor: Professor Bruce Miller
Current Puplications
Publications from 2017 to Current

View our current publications below.
Click on the links below to view publications
Earlier Publications
Publications from 2008 through 2016

Check out our earlier Lex Brevis Issues below.
Click on the links below to view publications
LEX TALK PRESENTATIONS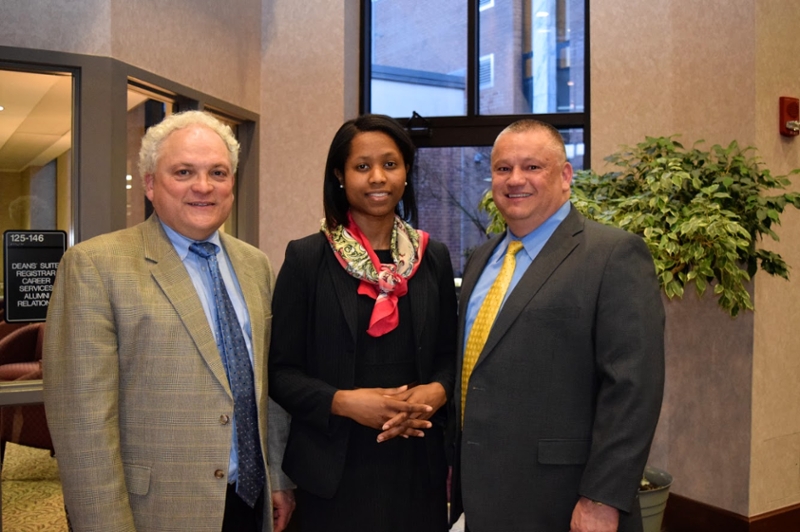 left to right: Dean Eric Gouvin, Editor Amara Ridley, Attorney Robert Harnais
On April 18, 2016 Lex Brevis hosted LEX Talk: an evening with Massachusetts Bar President, Attorney Robert Harnais. You may view recording here.
Find us on facebook.
For more information, please contact:
Tinuke Fadairo 
Editor-In-Chief, Lex Brevis
LexBrevis@gmail.com