PGY1 Community-Based Pharmacy Residency, Big Y
Purpose & Overview
Western New England University College of Pharmacy and Health Sciences Community-Based Residency Program provides postgraduate training to pharmacists to become leaders within the profession, provide direct care for the members of their community, contribute to community pharmacy's advancements in health care, and to integrate practice based outcomes research in the community setting.
Big Y Foods, Inc. recognizes the importance of advancing the role of the pharmacist and profession of pharmacy in community practice and is dedicated to providing educational opportunities for pharmacists that both enhance their knowledge base and promote personal growth. The Postgraduate Year 1 (PGY 1) Community-Based Pharmacy Residency is a 12-month program that provides exposure to the various pharmacist delivered patient care experiences within community practice.
The ASHP and APha PGY1 Community-Based Pharmacy Residency Program Purpose Statement
To build upon the Doctor of Pharmacy (PharmD) education and outcomes to develop community-based pharmacist practitioners with diverse patient care, leadership, and education skills who are eligible to pursue advanced training opportunities including postgraduate year two (PGY2) residencies and professional certifications.
Residency Site Description
The Western New England University and Big Y Foods, Inc. Consultation and Wellness center is located at the Big Y on Cooley Street in Springfield, MA. Within the store, there is a pharmacy that fills approximately 550 prescriptions per week and administers approximately 100 immunizations annually. The Consultation and Wellness Center is located directly behind the pharmacy in a 600 square-foot space that includes a waiting room, private restroom, examination room, and an office.
A number of services are available at the Consultation and Wellness Center. Some activities include:
Personalized education sessions
Blood pressure monitoring
Glucose meter training
Insulin injection training
Blood glucose evaluations and monitoring
Pharmacist review of medication regimen
Foot examinations
Nutrition label reading
Grocery tours
Wellness activities
Smoking cessation counseling
The Consultation and Wellness Center is conveniently located within walking distance (less than ¼ mile) from RiverBend Medical Group, a large practice that includes Adult Medicine and Pediatrics in Springfield, Massachusetts. Springfield is home to two large medical centers, Baystate Health System and Mercy Medical Center. These centers provide institutional based diabetes education programs with services located at the main location and at a neighborhood health center. The Consultation and Wellness Center has become the primary referral site for patients with diabetes due to its' close proximity to RiverBend and reputable education program. The Diabetes Self-Management Education (DSME) program provided at the Consultation and Wellness Center is fully accredited by the American Association of Diabetes Educators (AADE).
Learning Experiences
The goals of this residency are as follows:
Manage and improve the medication use process
Provide evidence-based, patient-centered care and collaborate with other health care professionals to optimize patient care
Exercise leadership and practice management skills
Provide project management skills
Provide medication and practice-related information, education, and/or training
Utilize medical informatics
The majority of the patient care and practice management activities will be conducted at Big Y Foods, Inc. on Cooley Street. There will be monthly content rotations that focus on common diseases or conditions encountered in the community. The following is a list of the rotations: disease state management, hypertension, dyslipidemia, obesity, diabetes, tobacco abuse, medication therapy management, wellness & immunizations, community service, public health & prevention, travel clinic, academia/teaching (longitudinal), and research elective. This content will be covered and emphasized throughout the residency program. Each of these experiences will have educational outcomes, goals, and objectives. Assessments will be completed by the preceptors as well as the resident at the completion of each rotation and at least quarterly for the longitudinal experience.
During the residency, the resident will serve as a co-preceptor for pharmacy students from Western New England University College of Pharmacy and Health Sciences. 
Longitudinally, the resident will provide patient care at the Consultation and Wellness Center 1-2 days per week. During the Fall and Spring semesters, the resident will facilitate and teach approximately one day per week. The specific days of teaching are subject to change. The resident is expected to be flexible with scheduling.
Preceptors 
Kam L. Capoccia, PharmD, BCPS, CDE
Kam L. Capoccia, PharmD, BCPS, CDE, Clinical Professor & Residency Program Director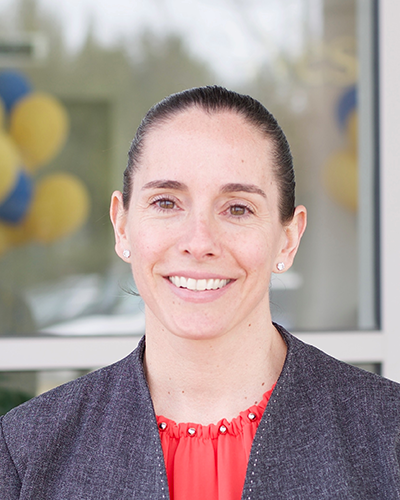 Kam L. Capoccia received her B.S. degree in Pharmacy from the University of Connecticut and her Pharm.D. from the University of Colorado Health Sciences Center in Denver. She completed a general practice residency at the University of North Carolina Hospitals in Chapel Hill and a specialty residency in Primary Care at the University of Washington Family Medical Center in Seattle. Dr. Capoccia has served as faculty at the University of Washington School of Pharmacy and the University of Washington School of Medicine. She has also taught at the MEDEX Northwest Physician Assistant Program. 
Dr. Capoccia has spent more than 10 years working in collaborative practice agreements. Her practice focuses on chronic disease state management such as diabetes, hypertension, dyslipidemia, and smoking cessation. She has been a Board Certified Pharmacotherapy Specialist (BCPS) since 2000.
Christi Masciadrelli, RPh
Christi Masciadrelli, RPh, Pharmacy Manager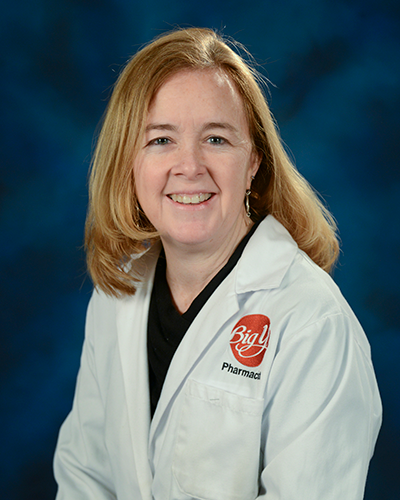 Christi Masciadrelli earned her BS in Pharmacy at Massachusetts College of Pharmacy in 1996. She worked for 22 years at CVS Pharmacy beginning before she enrolled in Pharmacy school. She was honored with the 1999 CVS Regional Paragon Award for Customer Service Excellence. She managed the Pharmacy department at store #1026 in downtown Springfield for 11 years, and then managed store#1972 on Elm Street in West Springfield for 6 years. In 2013, Christi left her position with CVS to begin her career with Big Y Pharmacy and Wellness Center. She currently manages the Cooley Street Springfield location. She has been involved with several peer focus groups throughout her career, on topics such as HIPPA, Medication Therapy Management, Pharmacist Lunch Breaks, Immunizations, and Workflow. She has been a preceptor to area pharmacy students for over 16 years.
Christi has been active with Western Massachusetts Pharmacist Association (WMPhA) for over 10 years. She currently serves as one of the officers of the Board for WMPhA and acts as the corresponding secretary. She is responsible for the coordination of Continuing Education programs and communication with over 300 area pharmacists.
Samuel Baidoo, RPh, Staff Pharmacist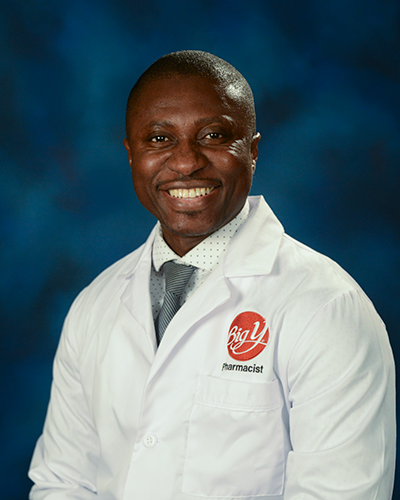 Samuel Baidoo is currently a Staff Pharmacist at BigY on Cooley Street. H holds a BS Pharmacy degree from the Kwame Nkrumah University of Science and Technology, Kumasi, Ghana and MSc (Pharmaceutical analysis and quality control) from Kwame Nkrumah University of Science and Technology, Ghana.  Samuel Baidoo has worked for BigY for the past 4 years and received the Floater Pharmacist of the Year in 2014. He is a certified immunizer and has extensive experience in immunization. He also holds certification in CPR and basic compounding. Samuel has been a member of Western Massachusetts Pharmacist Association since 2010. His professional interest include patient safety, compounding and immunizations.
Jennifer Salvon, RPh, Manager of Pharmacy Operations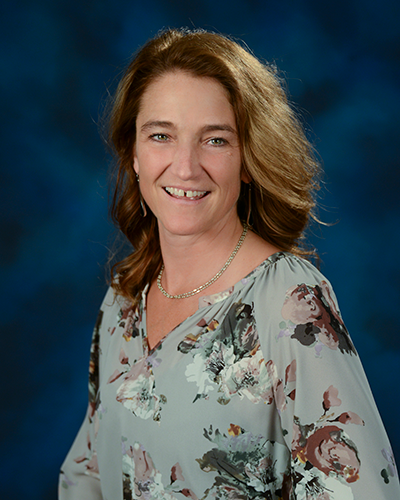 Jennifer received her BS degree in pharmacy from Massachusetts College of Pharmacy in Boston.  Jennifer has worked for Big Y for the past 12 years, first as Pharmacist, then Pharmacy Manager and has been in her current role as Manager of Pharmacy Operations for the past 2 years.  Prior to coming to Big Y, Jennifer has extensive and diverse experience in hospital pharmacy, OR pharmacy, clinical drug research and managed care pharmacy.
Since assuming the role of Operations Manager, Jennifer has implemented numerous organizational strategies to decrease site workload, increase productivity and minimize avenues for prescription error.  She has streamlined and expanded the immunization program, helped establish a growing MTM program, and is the intern coordinator for Big Y.  Jennifer holds certifications in CPR, immunization and MTM services.
Amanda Pelland, PharmD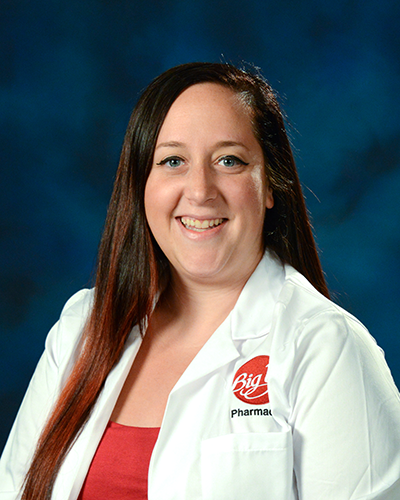 Dr. Pelland received her Pharm. D. from Western New England University's inaugural class in 2015. She was the first resident to complete the Big Y Pharmacy and Wellness Center and Western New England University PGY1 Community Pharmacy residency in 2016. During her residency, she published an article in the AADE in Practice journal entitled "Treat with technology: the key is in their hands".  She has been employed by Big Y Pharmacy since 2010, beginning while in pharmacy school, and has continued on as a staff pharmacist in their Ludlow location. Upon completing her residency she accepted a newly created position within Big Y Pharmacy and Wellness Center as the MTM pharmacist. Dr. Pelland is responsible for MTM services for the 39 Big Y pharmacies in Massachusetts and Connecticut.  She coordinates the cases for MTM and trains the pharmacists for the company. 
Amanda strives to develop connections with her patients. She hopes that by continuing to improve upon the MTM services offered at Big Y she can progress these relationships even further.
Stephanie Cloutier, PharmD
Stephanie Cloutier, PharmD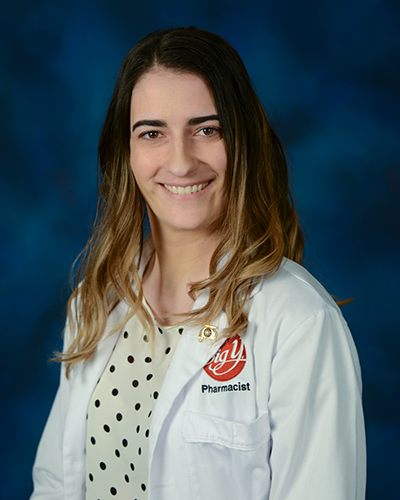 Stephanie Cloutier earned her Pharm.D. from the University of Connecticut in 2016, and then completed a PGY-1 Community-Based Residency with Big Y World Class Markets and Western New England University College of Pharmacy and Health Sciences. Since completing her residency, she has worked as a Floater Pharmacist for Big Y Pharmacy & Wellness Center in both Massachusetts and Connecticut, and she is now a Staff Pharmacist at the Longmeadow pharmacy location.
As a pharmacist for Big Y Pharmacy & Wellness Center, Dr. Cloutier has been very active in organizing flu shot clinics, community outreach events and presentations, and participating in Big Y Pharmacy's monthly Inform & Inspire events. She presented her residency research project "Implementing an Accredited Diabetes Education Program in a Grocery Store Community Pharmacy" at the 2017 and 2018 APhA Annual Meetings, and her poster in 2018 was selected for an APhA-APPM Presentation Merit Award. She was also selected as a presenter for the Precepting PharmTalk session at the 2018 APhA Annual Meeting.
Dr. Cloutier has many interests in community pharmacy including diabetes education, immunizations, and Medication Therapy Management (MTM). She is an active board member for the Western Massachusetts Pharmacist Association (WMPhA), which provides live continuing education presentations to local pharmacists. Stephanie hopes to continue expanding Big Y's immunization program and offering diabetes education classes to Big Y employees and customers.
RESIDENCY PROGRAM DIRECTOR
Kam L. Capoccia, PharmD, BCPS, CDE
Kam L. Capoccia, PharmD, BCPS, CDE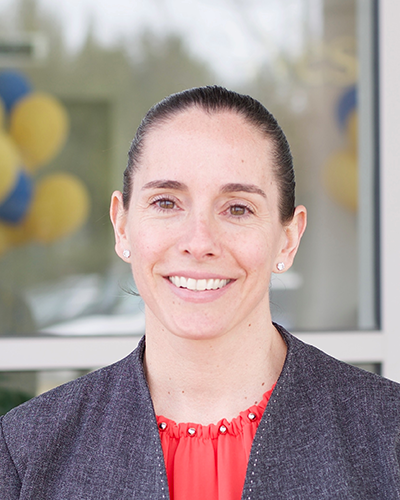 Clinical Professor
Residency Program Director
Department of Pharmacy Practice
Western New England University College of Pharmacy and Health Sciences
1215 Wilbraham Road
Springfield MA 01119
p: 413-796-2418
f: 413-796-2266
kcapoccia@wne.edu
RESIDENCY Accredidation Status
The Big Y and Western New England University College of Pharmacy and Health Sciences Community-Based Residency Program is in candidate status with the American Society of Health-System Pharmacists (ASHP) and the American Pharmacists Association (APhA).
APPLICATION INFORMATION
Submission of residency application materials to Pharmacy Online Residency Centralized Application Service (PhORCAS) at http://www.ashp.org/PHORCAS
Completed on-line application at www.bigy.com
On-site interview (upon invitation)
Presentation at on-site interview on a topic related to community pharmacy
Individuals must participate in and adhere to the rules of the ASHP Resident Matching Program
LICENSURE REQUIREMENTS
Residents must possess a Doctorate of Pharmacy degree from a school or college accredited by the American Council of Pharmaceutical Education. Residents must hold or be eligible for pharmacy licensure in the Commonwealth of Massachusetts.
Each resident must be licensed by September 1st of the program year. If a resident fails to become licensed in Massachusetts by this date, his or her pay rate will be decreased immediately to that of a 5th year pharmacy intern. This will cut the resident's pay approximately in half. If this occurs, the resident will be required to obtain a Massachusetts Pharmacy Intern license and will staff as a graduate intern.
SALARY AND BENEFITS
The Community Pharmacy Resident will be paid a salary of $50,000.  The resident will be paid on a bi-weekly basis. 
The information listed in this section is intended for general reference only. 
Resident will be eligible to participate in Big Y's Personal Choice Fund HRA Medical Plan, Dental Plan and/or Vision Plan the first of the month following 30 days of employment from your date of hire.
Resident will earn 1 week of Paid Time Off (PTO) for the first 6 months, then he/she will earn 1 week of PTO for the remaining 6 months of the residency program.
Resident will be eligible for holiday pay after beginning his/her employment. The paid holidays for all FT employees are, New Years Day, Easter, Memorial Day, Independence Day, Thanksgiving Day and Christmas Day.
Resident will be immediately eligible to utilize our Big Y Cares Program, a free confidential counseling service.
All other benefits will be provided in accordance with the plans in effect for other salaried Big Y employees.
Travel stipend of $2000
PROGRAM LENGTH
The residency is 12 continuous months beginning July 1 and ending June 30.