Police Services
Police Bike Patrol Unit
The Western New England University Police Bicycle Patrol Unit was created in February of 1994. At that time, it was the second Police Bike Patrol Unit in Western Massachusetts. The officers serving with the unit operate in all weather conditions, 24 hours a day. The bike unit is currently commanded by Sergeant Alexandria Capen-Parizo. The police officers that serve with the unit are fully equipped to respond to any situation on campus. In some situations, the use of mountain bikes enables officers to respond to emergencies more rapidly than cruisers. Their ability to go virtually anywhere on campus makes the Bicycle Patrol Unit a valuable part of the University. Because police officers on mountain bikes have access to the public more easily, they play a vital role in enhancing the relationship between the Police and the University community. Officers on bikes are more approachable because officers are not merely driving by in a cruiser with the windows rolled up. The untraditional appearance of a police officer in shorts, riding a bicycle is usually enough for most people to start a conversation with the officer. The interaction between the police and the community on this level has become necessary for the University Police. The Bicycle Patrol Unit plays a crucial role in the department's community oriented policing and problem solving philosophy. All officers are encouraged to strengthen their relationship with the community in which they serve. This is an extended service of the department that promotes a better quality of life and a safer environment through solving problems within the community.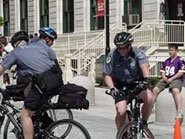 Emergency Medical Services
Emergency Medical Response
Every Western New England University Police Officer is certified in cardiopulmonary resuscitation (CPR) and First Responder, to ensure that prompt and capable medical attention is always available to the campus community. The University Police has committed itself to providing an expanded medical response capability by having some of the Campus Police Officers certified as Emergency Medical Technicians (EMT's). The EMT course is a long and demanding one. In order to successfully complete the 120 hour course, each officer must pass "hands on" practical exercises, attend guest lectures, observe 10 hours of emergency room treatment, and pass a lengthy written and practical examination given by the State Board of Examiners.  Several EMTs are certified CPR instructors and have been involved in the CPR re-certification of the University Police Officers, the Alumni Healthful Living Center Security Staff, the Student Patrol Division, and other college personnel. The lead EMT also oversees the use of the Department's Automated External Defibrillator (AED). While not every medical emergency is life threatening, the potential for students, faculty, and staff members to become seriously ill or injured is always present. The University Police has dedicated itself to providing the University with the best emergency medical care possible.
Community Service Officer
Community Service Officer
The Public Safety Department employs six Community Service Officers (CSO) to assist with the Public Safety Department's mission on campus. A Community Service Officer is a non-sworn civilian staff member, who assists sworn staff with routine assignments and complaints. Community Service Officers are utilized for room and vehicle lockout services, vehicle jumpstarts, medical emergencies, fire alarms and assisting sworn officers on calls for service, as needed. Community Service Officers also assist with enforcing parking regulations on campus.
Community Service Officers patrol campus on foot, vehicle, and bicycle. Community Service Officers are provided with tan uniform shirts and grey pants.
All Community Service Officers are trained in Cardiopulmonary Resuscitation (CPR), use of an Automated External Defibrillator (AED), and certified and trained as medical First Responder to the same standard as sworn University Police Officers.
Community Service Officers may also be assigned to provide security at sporting events, direct traffic, and aid in community engagement events.
If you have any questions regarding the Community Service Officer program, please contact Public Safety or speak to a Community Service Officer on campus.
Building Security Staff
The Western New England University Department of Public Safety maintains a Circulation Security Staff for the Alumni Healthful Living Center. The staff maintains a safe and orderly environment for all who enter the facility. Not only responsible for the day to day protection of the users of the facility and their personal property, but Security Staff must also effectively maintain this environment for the numerous special events held in the Alumni Healthful Living Center. Security Staff must ensure that only authorized persons are allowed use of these buildings. All Western New England University students, faculty, and staff have access to the facilities by use of their identification/access cards. Valid University identification is required for access to the buildings during normal hours of operation. During the course of the year, there are numerous functions hosted at the Alumni Healthful Living Center. Specific security measures for each event are set in place to prevent problems and cope with any emergencies that may arise. When there is an event with an anticipated large attendance, the Security Staff is augmented by the University Police and the Student Patrol. The Director of Public Safety is ultimately in charge of all security personnel, and works with the Circulation Security Coordinator and the event sponsor to ensure that a safe and enjoyable environment is maintained.
Student Patrol Unit
Student Patrollers work in conjunction with University Police and Public Safety staff to provide a more secure campus by acting as "eyes and ears." Patrollers receive real law enforcement training and apply it when conducting foot and bicycle patrols in teams of two, at night, in all types of weather conditions. Other assignments include providing security at the School of Law and the Alumni Healthful Living Center as needed. Patrollers assist with traffic control and security during special events such as sporting events, college fairs, political debates, and concerts. Patrollers may assist with monitoring the closed-circuit surveillance cameras that are positioned throughout campus and conduct maintenance checks of the emergency blue light system around campus. Patrollers assist officers with disturbances, maintenance problems, unsecured buildings, medical emergencies, and suspicious activities.
As with all students on campus, Patrollers are not allowed to carry personal weapons. Patrollers wear a uniform consisting of a gray polo shirt and khaki pants. Patrollers are provided with all the necessary equipment required to assist with the core mission of the Public Safety Department.

Past Student Patrollers have obtained employment with agencies such as the New York City Police Department (NYPD), Massachusetts State Police, Connecticut State Police, United States Capitol Police (USCP), and the Western New England University Police Department.

If you are interested in applying, or just looking for more information on our Student Patrol Unit, please contact WNE Police Department's non-emergency line at 413-782-1300 or please access the application below. Applications are to be turned into Dispatch at the WNE Police Department Station.
RAVE Guardian Alerts
RAVE Alert is a type of mass communication system that is easy to use for students, faculty, staff and parents. It can be used to text or message Public Safety in case of safety concerns on campus. It will also be used to notify the campus community about important affairs that are taking place. Our goal is the well being of the university  and RAVE Alert is a tool that is frequently used.